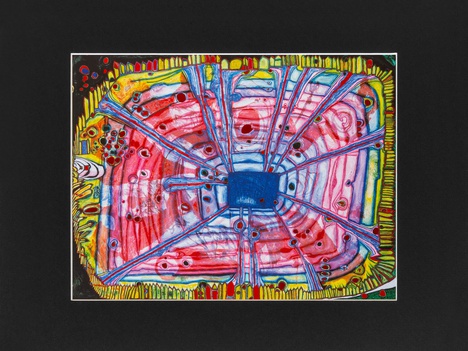 MINI ART PRINT WITH PASSE-PARTOUT RAIN OF BLOOD DROPPING INTO JAPANESE WATERS LOCATED IN AN AUSTRIAN GARDEN
€24.80
incl tax, excl. shipping
Product Description
This Mini Art Print with passe-partout after the Hundertwasser's painting "RAIN OF BLOOD DROPPING INTO JAPANESE WATERS LOCATED IN AN AUSTRIAN GARDEN" (oeuvre 475) is a 5-colour offset print on 300 g/sqm matt coated paper. In a further finishing step glossy-foil is embossed.
Hundertwasser comment about the work 699 "THE HOUSES ARE HANGING UNDERNEATH THE WOODS (MEADOWS)"
"The biggest picture I painted in Japan. I lived in a ryokan, a traditional Japanese inn, with armchairs without legs, a low table, only about high enough (approx. 40 cm) to stretch your legs through or to sit cross-legged before it or in a Roman reclining position on one's elbows. The floor was covered by tatami mats. The painting was on the little table, which was only about 70 cm square, and stuck far out in the room. As it was a difficult physical undertaking to stand up and paint at another point in the picture, I turned the painting horizontally around its midpoint and painted as far as the arm could reach. Thus the structural composition of the painting came about in a perfectly natural way and of itself, with a blue lake in the centre and a garden fence on the edge."
(from: Hundertwasser 1928-2000, Catalogue Raisonné, Vol. 2, Taschen, Cologne, 2002, p. 412)
Product Details
| | |
| --- | --- |
| Title | RAIN OF BLOOD DROPPING INTO JAPANESE WATERS LOCATED IN AN AUSTRIAN GARDEN |
| Oeuvre No. | oeuvre 475 |
| Page Format | 40 x 30 cm |
| Picture Format | 30 x 20 cm |
| Print | 5-colour offset print on 300 g/sqm matt coated paper |
| Process | red glossy-foil embossings |
| Weight | 1 |
Product Information
| | |
| --- | --- |
| Product Type | Artprint |
| Price (incl. tax) | €24.80 |
| Availability | In stock (10 available) |