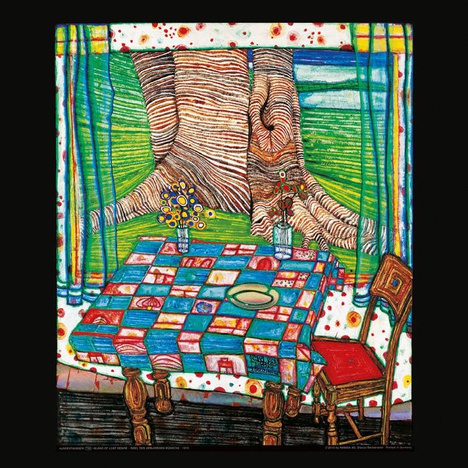 Product Description
This art print after the Hundertwasser's painting "ISLAND OF LOST DESIRES" (oeuvre 755) is a premium 7-colour offset print on 300 g/sqm matt coated illustration printing paper.
Three specialized companies in the area around Stuttgart are involved in this complicated manufacturing process.
Hundertwasser comment about the work:
"This harks back to the time when I painted tables covered by tablecloths from nature - see 53 Tables with Red-and-white-striped Tablecloths in an Osteria, but also is reminiscent of Van Gogh and Schiele, who painted chairs and tables wonderfully. It was on Motuarohia, also called Robertson Island, in Jim Cottier's house, who was a very widely travelled sea captain who hailed from the Isle of Man, where I painted the trunk of a giant Moreton Bay fig from the window."
(from: Hundertwasser 1928-2000, Catalogue Raisonné, Vol. 2, Taschen, Cologne, 2002, p. 589)
Product Details
| | |
| --- | --- |
| Title | Island of lost desire |
| Page Format | 48 x 48 cm / 18,9" x 18,9" |
| Picture Format | 37 x 44 cm / 14,5" x 17,3" |
| Print | premium 7-colour offset print on 300 g/qm matt coated illustration printing paper |
| Process | highly refractive silver glossy-foil embossings |
| Weight | 1 |
Product Information
| | |
| --- | --- |
| UPC | 005480 |
| Product Type | Artprint |
| Price (incl. tax) | €49.90 |
| Availability | Unavailable |