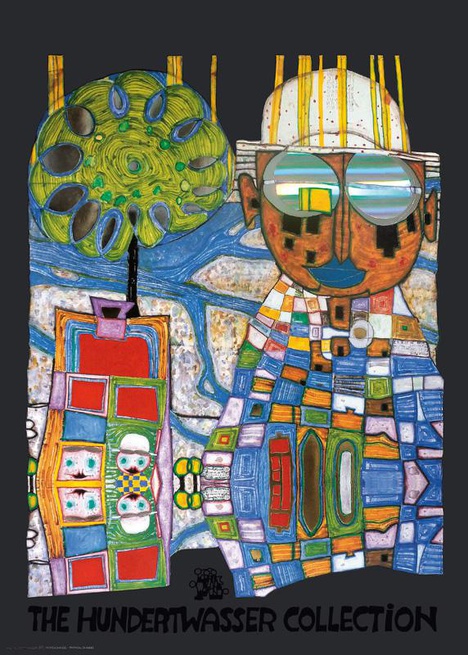 Product Description
This art print after the Hundertwasser's painting "TROPICAL CHINESE" (oeuvre 887) is a premium 7-colour offset print on 250 g/sqm Chromolux paper.
Silver, blue, gold and highly refractive silver glossy-foils are embossed in several finishing steps. Four specialized companies in the area around Stuttgart are involved in this complicated manufacturing process.
Hundertwasser comment about the work:
"One time I was riding my bicycle over a bridge in Santa Marina, near Venice. Some cyclists came from the opposite direction, wearing reflecting glasses. That made a big impression on me. If these glasses had had a slit in the middle, through which the eyes would look, the result would be beings something like insects. The living thing in my painting is wearing a kind of tropical helmet. Its costume is architectural, i. e., it is composed of parcels, like dwelling units."
(translated from the broschure: Kunstwerk, Die Hundertwasser Ausgabe der Brockhaus Enzyklopädie, n. p., 1989, p. 20)
Product Details
| | |
| --- | --- |
| Title | Tropical Chinese |
| Page Format | 59,4 x 84 cm / 23,4" x 33,1" |
| Picture Format | 52 x 69 cm / 20,5" x 27,2" |
| Print | premium 7-colour offset print on 250 g/sqm Chromolux paper |
| Process | silver, blue, gold and highly refractive silver glossy-foil embossings + partial UV-varnishing |
| Weight | 2 |
Product Information
| | |
| --- | --- |
| UPC | 002904 |
| Product Type | Artprint |
| Price (incl. tax) | €99.90 |
| Availability | In stock (2 available) |