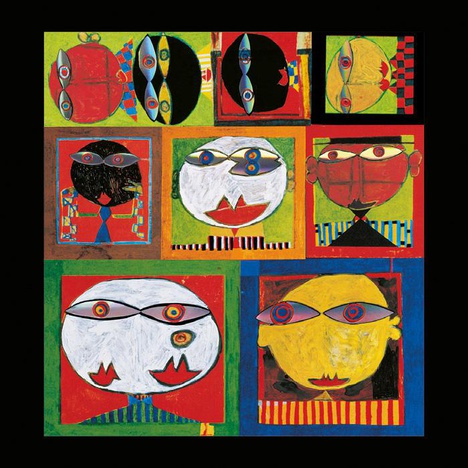 Product Description
This art print after the Hundertwasser's painting "WE LIVE IN PARADISE" (oeuvre 134) is a premium 7-colour offset print on 300 g/sqm matt coated illustration printing paper.
Highly refractive silver glossy-foils are embossed. Three specialized companies in the area around Stuttgart are involved in this complicated manufacturing process.
Hundertwasser comment about the work:
"This is an arithmetical row of heads in windows. A kind of vanishing-point perspective in which humanoid beings grow smaller and vanish. But here, too, the right to a second and third skin is realised, the right to individual clothing and the window right. The window frames have different colours. There are also people with three eyes. the bodies don't exist, the beings consist of heads. The walls don't exist. The house consists of windows. The first picture of this kind, in which I show a concentration of windows with people in them. The impish character is typical of the loss of individuality and mechanisation and computerisation of the masses of humanity in residential buildings. The arithmetical row, one next to the other, brings a new perspective to architecture which does not confrom with the customary rules of perspective. (from: Hundertwasser Architecture, Cologne, 1997, pp. 18-19) Definitely a social-critical, urbanist-problematical, socially charged work without my realising it. The heads that look like aliens I have from Brô. It is an arithmetic sequence of heads - 1, 2, 3, 4 etc. - one above the other, until the heads in the right quarter, 80, got so close together - 17 atop one another, but there were supposed to be 21! - and I didn't want to go on and painted the rest of the space red. Facchetti kept telling me I had to keep out of sight to attract attention and be successful. My answer was that first people did have to know that I existed! At any rate, Facchetti, who had all my pictures, put that into practise this way: a collector told me that if he wanted to see my pictures he was told to come back tomorrow, then next week, next month, then in half a year! "Ne vous inquietez pas . . . revenez demain, la semaine prochaine, dans un mois . . ." But as the collector would not leave off even after months of this, Facchetti left the room and showed the collector a corner (maybe an eighth) of the 99 Heads on his way out, saying "C'est tout ce que je peux vous montrer pour aujourd'hui" (That's all I can show you today)."
(from: Hundertwasser 1928-2000, Catalogue Raisonné, Vol. 2, Taschen, Cologne, 2002, p. 224)
Product Details
| | |
| --- | --- |
| Title | We live in paradise |
| Page Format | 48 x 48 cm / 18,9" x 18,9" |
| Picture Format | 39,5 x 42 cm / 15,3" x 16,5" |
| Print | premium 7-colour offset print on 300 g/sqm matt coated illustration printing paper |
| Process | highly refractive silver glossy-foil embossings |
| Weight | 2 |
Product Information
| | |
| --- | --- |
| UPC | 005483 |
| Product Type | Artprint |
| Price (incl. tax) | €49.90 |
| Availability | In stock (1 available) |