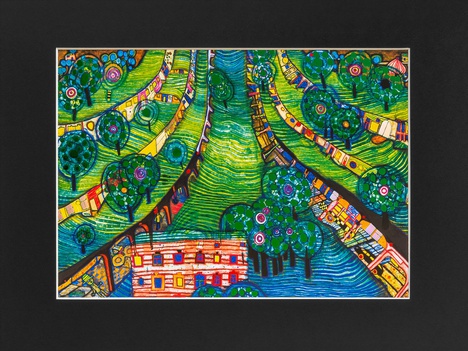 Mini Art Print with passe-partout GREEN TOWN
€24.80
incl tax, excl. shipping
Product Description
This Mini Art Print with passe-partout after the Hundertwasser's painting "GREEN TOWN" (oeuvre 781) is a 5-colour offset print on 300 g/sqm matt coated paper. In a further finishing step green glossy-foil is embossed.
Hundertwasser comment about the work 781 "GREEN TOWN"
"An urban architecture painting. The movement of pedestrians and cars takes place in the midst of grass and nature and tree-lined arcades. From above the city cannot be seen, as the roofs and level ground are also totally full of greenery. One thinks it is a forest landscape. It is similiar to painting 699 The Houses Are Hanging Underneath the Woods (Meadows): as a painter one can dream up architecture that really does get built one day. I`m glad I`m a painter and not an architect."
(from: Hundertwasser 1928-2000, Catalogue Raisonné, Vol. 2, Taschen, Cologne, 2002, p. 607f)
Product Details
| | |
| --- | --- |
| Title | GREEN TOWN with passe-partout |
| Page Format | 40 x 30 cm / 15.7" x 11.8" |
| Picture Format | 30 x 20 cm / 11.8" x 7.9" |
| Print | 5-colour offset print on 300 g/sqm matt coated paper |
| Process | green glossy-foil embossings |
| Weight | 1 |
Product Information
| | |
| --- | --- |
| UPC | 030372 |
| Product Type | Artprint |
| Price (incl. tax) | €24.80 |
| Availability | Unavailable |