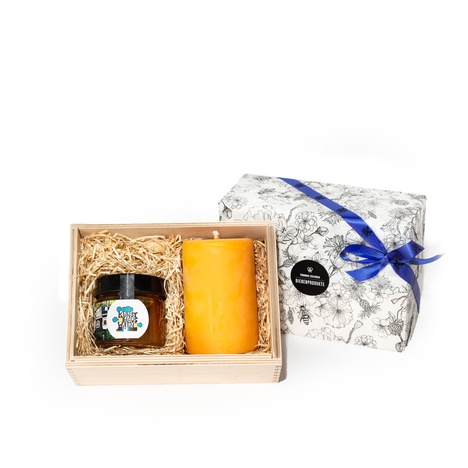 Product Description
Give your loved ones a special treat with our Gift Special "Candle + Honey"!
The exquisite honey comes from bee colonies from the green roof garden of KUNST HAUS WIEN, which are taken care by master beekeeper Thomas Zelenka. The outstanding quality can be recognized by the shimmering amber colour. The honey tastes at the same time mild and delicately spicy - nevertheless the taste changes depending upon annual weather conditions. Each honey is therefore unique in itself. The handmade pillar candle completes the gift set with its wonderfully fragrant beeswax note. It was made from 100 percent pure KUNST HAUS WIEN beeswax and is characterised by a particularly long burning time. A unique gift for contemplative moods!
As the first "Green Museum", we use only naturally produced beeswax, which is CO2-neutral at the same time. We completely dispense with artificial fragrances and aromas!
Contains:
1 x Stump Candle
1 x Kunst Haus Wien Honey (240g)
comes in a decorative wooden box (gift wrapped!)
Product Information
| | |
| --- | --- |
| UPC | 030245 |
| Product Type | Honey |
| Price (excl. tax) | €35.45 |
| Price (incl. tax) | €38.99 |
| Tax | €3.54 |
| Availability | Unavailable |